Thank you to Jen Reviews for giving us this great list of Boston Finds. This list was compiled from her thorough post 100 Best Things to do in Massachusetts!
Paul Revere House (Boston)
Paul Revere lived in this house when he took his famous midnight ride. He sold the house in 1800 and it's been used as a few different things over the years, including shops and a boarding house. Revere's great grandson purchase the house in 1902 and renovated it into the museum it is today. The oldest building in downtown Boston, it's a great place to spend an hour or so learning about a piece of our history. Read more at PaulRevereHouse.org.
Boston Children's Museum (Boston)
Boston Children's Museum offers a variety of hands on learning activities for kids of all ages. They can play in the art studio or with bubbles, get hand on with construction equipment, look around an authentic 100 year old Japanese house, and power gold balls through intricate raceways. You'll need about 3 hours here for the kids to do everything. Read more at BostonChildrensMuseum.org.
Freedom Trail (Boston)
A 2.5 mile walk through Boston, The Freedom Trail takes you to 16 different historic sights, including Park Street Church and the previously mentioned Paul Revere House. a standard tour takes 90 minutes but you can book extended tours for groups and schools. Read more at TheFreedomTrail.org.
Franklin Park Zoo (Boston)
With more than 125 kinds of animals, the Franklin Park Zoo will not disappoint. There's miniature horses, giraffes, anteaters, hippos, and porcupines to name a few. There's also a playground, carousel, and a train ride. You'll need about 2-3 hours here. Read more at ZooNewEngland.org.
Public Garden (Boston)
This was the first botanical garden in America and was created in 1837. It has heavy Victorian influences and is one of Boston's greatest attractions. Come here and spend an hour or so taking in the beautiful flowers. Read more a Boston.gov/parks/public-garden.
Newbury Street (Boston)
A unique commercial district in Boston, it has an interesting history of having once been under the water in Boston Harbor until the area was filled in for expansion which was completed in 1870. Once residential, Newbury Street is now considered the Rodeo Drive of the west, but with beautiful old buildings with a European design flair. Spend an afternoon shopping here and getting to know this beautiful part of the city. Read more at Newbury-St.com.
Holocaust Memorial (Boston)
This is New England's tribute to the victims and survivors of the Holocaust. The artist behind it was a Holocaust survivor who was liberated from a concentration camp when he was just 14 years old. You can do a self guided tour or request a guided tour. Leave about an hour here to pay your respects. Read more at NEHM.org.
Bunker Hill Monument (Charlestown)
A 221 foot obelisk marks the spot where colonial soldiers built a fort out of mud and endured a difficult battle with British forces in the Revolutionary War. You can climb the obelisk during certain hours and stop at the museum across the street to learn about this epic battle. Read more at NPS.gov.
Isabella Stewart Gardner Museum (Boston)
Isabella Stewart Gardner was born in 1840 and grew to become a patron of the arts. She collected various painting, textiles, and furniture in her many extensive travels and also loved and supported the Boston Symphony. The museum opened to the public in 1903 and has more than 2500 pieces in its collection. Spend an hour or so here learning about this eccentric woman with a zest for life and examining her extensive collection. Read more at GardnerMuseum.org.
Boston Harborfest (Boston)
During a four day period over the Fourth of July holiday, this is the country's largest Independence Day celebration. There's an opening ceremony, live music, art shows, fireworks, and more. It's a great way to spend a day with the family. Read more at BostonHarborFest.com.
Museum of Fine Arts (Boston)
Boston Museum of Fine Arts has eleven different collections, including including art from America, Europe, Asia, and Africa as well as photography, musical instruments, and drawings. They also offer guided tours, art classes, and a lot of kid and family friendly programs. You should allow 2-3 hours here. Read more at MFA.org.
Faneuil Hall (Boston)
In action since 1742, Faneuil Hall was called "the cradle of liberty" by the founding fathers. There are 70 shops and 40 office, this is a central hub of activity in downtown Boston. Local shops, amazing restaurants, and music and street performers make this a unique place to hang out. Spend about 2 hours here having lunch and doing some shopping. Read more at FaneuilHallMarketPlace.com.
Rose Fitzgerald Kennedy Greenway (Boston)
This is a unique mile and a half long ribbon of green space right in the city. It's broken down into five separate areas – Chinatown Parks, Dewey Square Parks, Fort Point Channel Parks, Wharf District Parks, and North End Parks. There's fountains, food vendors, farmer's markets, plus story times and activity carts for kids. Spend an afternoon here while you're in the city. Read more at RoseKennedyGreenway.org.
Old North Church (Boston)
On April 18, 1775, the steeple of the Old North Church was where the lanterns were hung as Paul Revere's signal for "one if by land, two if by sea" which kicked off the American Revolution. This is the city's oldest surviving church and a key part of our country's birth. Spend an hour or so here taking in a little piece of history. Read more at OldNorth.com.
Skywalk Observatory (Boston)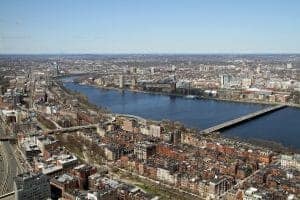 Here you'll find a 360 degree view of the city from 700 feet up in the air. There's an audio tour available and a viewing of a short film called "Wings Over Boston" included here as well. You can come for the view and stay for about 45 minutes or do the tour or the movie and make morning or afternoon of it. Read more at SidewalkBoston.org.
Institute of Contemporary Art (Boston)
This is the sister museum to New York's Museum of Modern Art and was founded in 1936. The museum's collection is strong in exhibiting the art of women and has a mix of painting, sculpture, and photography. They also host traveling exhibitions and showcase performance art. You'll want to spend about
2 hours here. Read more at ICABoston.org.
Boston Common (Boston)
Founded in 1634, this is the oldest park in America. Throughout its history, it has always served as a place for public gathering and free speech and there are plaques and memorials throughout the park to learn all the detail. There's also the Frog Pond where you can ice skate in the winter and play in a spray pool in the summer. You can spend 2-3 hours here. Read more at Boston.gov/parks.
New England Aquarium (Boston)
There are thousands of aquatic animals at the New England Aquarium, including a giant Pacific octopus, sea lions, and the largest shark and ray touch tank in the eastern US. There's also an IMAX theater where you'll see amazing 3D movies about sea life. Spend 2-3 hours here, depending on if you want to see a movie during your visit. Read more at neaq.org.
Fenway Park (Boston)
Home of the Boston Red Sox since 1912, any sports fan should stop by when they're in Boston even if it's just to sit atop the Green Monster, the legendary 37 foot high wall that overlooks left field. A tour will take about an hour but plan for a whole day and stick around to see a game if you can. Read more at boston.redsox.mlb.com.
Boston Harbor Islands (Boston)
Boston Harbor Islands is a state and national park made up of 34 islands and peninsulas. Ferries take guests to eight of the islands seasonally while some are only accessible by private boat or charter. You'll find camping, beaches, lighthouses. Go birdwatching or play in a tide pool. If you are an outdoor enthusiast, you could spend a weekend and them some exploring every island you can reach by ferry. Read more at bostonharborislands.org.
Sports Museum (Boston)
Here you'll find old sports memorabilia like seats from the old Boston Garden as well as jerseys from the Boston Redskins, where the Washington Redskins originated. They're also involved in a lot of charitable events, like the Oldtime Baseball Game and Rodman Ride for Kids as well as a golf classic and a legendary lunch series. You'll spend about an hour here. Read more at sportsmuseum.org.
USS Constitution (Charlestown)
The USS Constitution is the oldest battleship in the world and in located in Boston Harbor. It's part of the Freedom Trail and onboard tours are free. "Old Ironsides" is staffed with active Navy sailors who act as historians about the ship's past. Hours are limited, so make sure you check the website before you go. Read more at Navy.mil/local/constitution/visitors.asp
Swan Boats (Boston)
Located in Boston Common, the swan boats are a Boston institution that have been around since the late 1800s. It was started by the Paget family and is still run by their fourth generation. They're open every day from April through Labor Day, weather permitting. A ride will take you 15-20 minutes. Read more at Swanboats.com.
Castle Island (South Boston)
Fort Independence is the main feature on Castle Island, but you'll also find beautiful views, fishing, swimming, and causeways to walk along. In the summer months, tours of the fort are available when you'll learn about its important to securing the harbor. Spend 2-3 hours here swimming, taking a walk, or learning some history. Read more at Mass.gov/eea/agencies/dcr/massparks/region-boston/castle-island-pleasure-bay-m-street-and-carson-beach.html
JFK Presidential Library and Museum (Boston)
The JFK Library holds all the original papers and correspondence of the Kennedy Administration as well as an extensive collection of works by authors like Ernest Hemingway. The museum offers displays on Kennedy's presidential campaign as well as his time in office, including exhibits about the space race, the Civil Rights movement, and Kennedy's prominent family. Spend an hour or so here.
Warren Anatomical Museum (Boston)
The Warren Anatomical Museum was established by Dr. John Collins Warren to help teach Harvard medical students about anatomy. There are about a hundred artifacts on display, ranging from bloodletting, the development of the stethoscope, and surgery in the Civil War. Admission is free. You can see the whole museum in
1-2 hours. Read more at countway.harvard.edu/chom/visiting-exhibition-gallery
Beacon Hill (Boston)
Now one of the most expensive Boston neighborhoods to live in, Beacon Hill saw it's first house built in 1625. It's full of old row houses, gaslit streets, and brick sidewalks. Allow yourself about an hour here walking around this historic neighborhood and take some good pictures. Read more at Beaconhillvillage.org.
Lannan Ship Model Gallery (Boston)
A family business that's been around since 1967, the Lannan Ship Model Gallery had an impressive amount of maritime artifacts. In addition to model ships, they also have antique sextants and compasses, clocks, art, and furniture. If you are curious about ships and life at sea, spend an hour or so here. Read more at Lannangallery.com.
Old State House (Boston)
The Old State House is the oldest public building in Boston was built in 1773. It served as a meeting place and a merchant exchange prior to the Revolutionary War. The Declaration of Independence was read to the public for the first time from its balcony. There's also many related artifacts, like John Hancock's coat. You will need about 1-2 hours to see everything here. Read more at Bostonhistory.org.
Arnold Arboretum (Boston)
This is a part of Harvard University and is free and open to the public. There are guided tours and interactive activities for kids as well as photo scavenger hunt and self guided tours that vary year round. When you're here, you'll want to stay for 2 hours or so. Read more at Arboretum.harvard.edu.
Massachusetts State House (Boston)
The building of the Massachusetts State House was completed in 1798. It's built on what was originally John Hancock's cow pasture. It has a recognizable golden dome, which was once made of wood and was then overlaid with copper by Paul Revere. Make this a stop along your tour of the Freedom Trail and stay for about a half hour. Read more at Thefreedomtrail.org/freedom-trail/state-house.shtml
Hammond Pond Reservation (Chestnut Hill)
Hammond Pond is a forest with wooded trails and rocks to climb on as well as a pond for fishing. If you like walking around exploring the outdoors, come and spend a morning or afternoon here.
Constitution Beach (East Boston)
This is a popular swimming spot and the addition of a new bathhouse and concession stand are sure to add to it's appeal. It's a great place to birdwatch, fish, or picnic, too. You could spend a whole day hanging out at this beach.
Samuel Adams Brewery (Boston)
The owner brewed his first batch in his kitchen using his great great grandfather's recipe and never looked back. Today, you can tour the brewery and learn about the whole process, taste the malts, smell the hops, and sample some of their many varieties of craft beer.
Tours leave every 40 minutes and last about an hour.
Thinking Cup (Boston)
Located right down the road from Boston Common, Thinking Cup uses Stumptown coffee straight from the Brooklyn roasting facility. Stumptown coffee has been called the best in the world. Here, you can pair it with delicious baked goods, breakfast sandwiches, or sandwiches. Stop in
and have a cup of coffee next time you're nearby.
Mapparium (Boston)
This is a three story, stained glass globe located in a library. There's a presentation called "A World of Ideas" that plays when you visit that gives a visual representation to how ideas and culture spread over time. This is a really cool and unique place to visit. Spend at least a half hour when you do.
Museum of Science (Boston)
Founded in 1864, this museum is one of the world's largest science museums. Their broad range of exhibits cover everything from chocolate to the Hall of Human Life to microbiotics. Come and spend 2-3 hours here.